December 21, 2011
I'm on the Radio
Categories: Blogreen, The Real Life.
Earlier this year, 4 friends and I joined together with the goal of having our very own radio show. The first show was recorded in late November and was on air in the beginning of October. From that date, every two week, a new issue is broadcasted live on Radio Campus Clermont-Ferrand.
The show is called Les aventures du comte de Malamanteau (French for Earl Malamanteau's Adventures), and is mostly music centered: during one hour, a selection of music from a given country (a different one for each issue) is aired. So far, we have visited South Africa, Kenya, Tunisia, Lebanon, Ukraine and Finland.
A website has been setup for listeners to have access to broadcasted shows and gathering more information about the music we chose and location we visited: malamanteau.fr.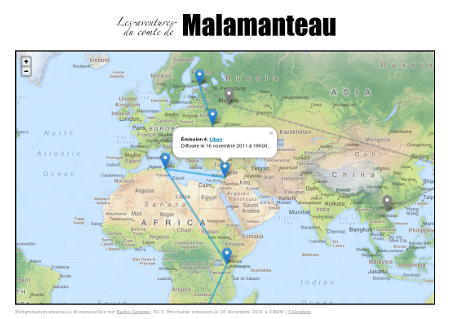 The website is generated using Blogreen, a project I started bazillon years ago and that recently reached a form that makes it usable (after being re-thought from scratch a couple times). Basically, Blogreen is a tool for building websites from free-form XML data. If you consider your data to be some models, regarding the facts that the system expects you to provide views, Blogreen is basically the controller of an XSLT MVC data processing system.
The documentation is currently somewhat sparse, so if you are interested in the project, you'd better subscribe to the blogreen-announce mailing-list to be informed of major news (documentation availability, releases (maybe one day), …) or if you are interested in how it works, to the blogreen-devel mailing-list for commit messages.
No Comments Yet