In the Spotlight
The remote of my Kodi based media center recently died and I bought a replacement one, identified as a 2.4GHz Fly Air Mouse Wireless Keyboard Motion Sensor Remote Control on Banggood.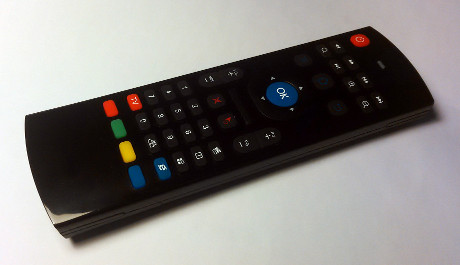 The device is viewed as a composite one consisting of a keyboard and a mouse. The mouse feature can be disabled/enabled using a mouse lock button on the remote.
Only problem, when the device wakes up from standby mode, the mouse device is always enabled and the cursor moves on screen, selecting whatever is below it… Pressing the mouse lock button stops the madness, but as the mouse enter standby mode after a few seconds of inactivity the same problems happen over and over again.
I fixed this by software. This was a 2 steps process:
Reduce the mouse sensitivity so that the cursor does not move when the device moves;
Trigger keypresses on mouse clicks.
About the Author
Hi! I'm Romain Tartière and you're currently browsing the sub-part of the Internet where I introduce myself and host a few projects.
By day, I was a systems administrator for HealthGrid, an association which aimed to bring grid technologies to health and healthcare-related structures. Since the liquidation of the association, I am in the process of a Validation des Acquis de l'Experience.
By night, I am a FreeBSD enthusiast involved in Free/Libre Software activities and interested in various computer-science related technologies (and sometimes sleep a bit).